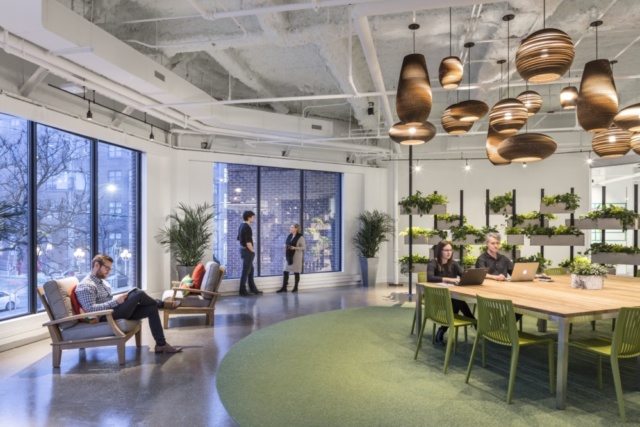 On September 25, The Architect's Newspaper hosted its inaugural Tech+Workplace conference. Located in New York City's Urban Tech Hub, the event brought together experts in the fields of office design, space planning, and facilities. Panels were split into three categories: Designing for Wellness, Designing for Performance, and Designing for the Future.
Melissa Marsh, Founder and Executive director of PLASTARC and Senior Managing Director – Occupant Experience at Savills Studley, and David Briefel, Sustainability Director at Gensler, examined new technologies driving higher standards for healthy work interiors. Both recognized the growing importance of following sustainable protocols, such as the Living Building Challenge and the WELL Building Standard. For Briefel, adherence to these standards includes the insertion of biophilic elements into his design process, including green surfaces, and natural shapes and patterns that encourage place-based relationships.
Technology is rapidly assuming greater tasks in workplace design. For HLW's Director of Strategy and Discovery Mat Triebner, analytical tools allow for the mass collection of data on how occupants use their space. For the redesign of Willis Towers Watson's New York's headquarters, Triebner's team effectively mapped the interior function and use of spaces. Following the collection of data, HLW produced a pilot redesign for the headquarters, reducing meeting rooms, while boosting common areas and mobile workstations.
John Capobianco, Design Director and Principal at IA Interior Architects' New York office, similarly described the accrual of data as key to a process based on "testing, learning, and integrating." Capobianco zeroed in on his practice's Scotiabank Digital Factory project as an example of design encouraging agile collaboration. The 70,000-square-foot office space is centered around a series of rotundas interlinked by axial paths, with the intended goal of fostering a string of "next generation 'we' spaces."
The Urban Tech Hub, led by Robinson Hernandez, is located within the 1-million-square-foot Company Building adjacent to Grand Central Terminal. Currently undergoing a SHoP-designed renovation, the Hub is dedicated to the support of tech-related entrepreneurs from the pre-seed to full-growth stages.
The next Tech+ event will be hosted in San Francisco on February 8, 2019.