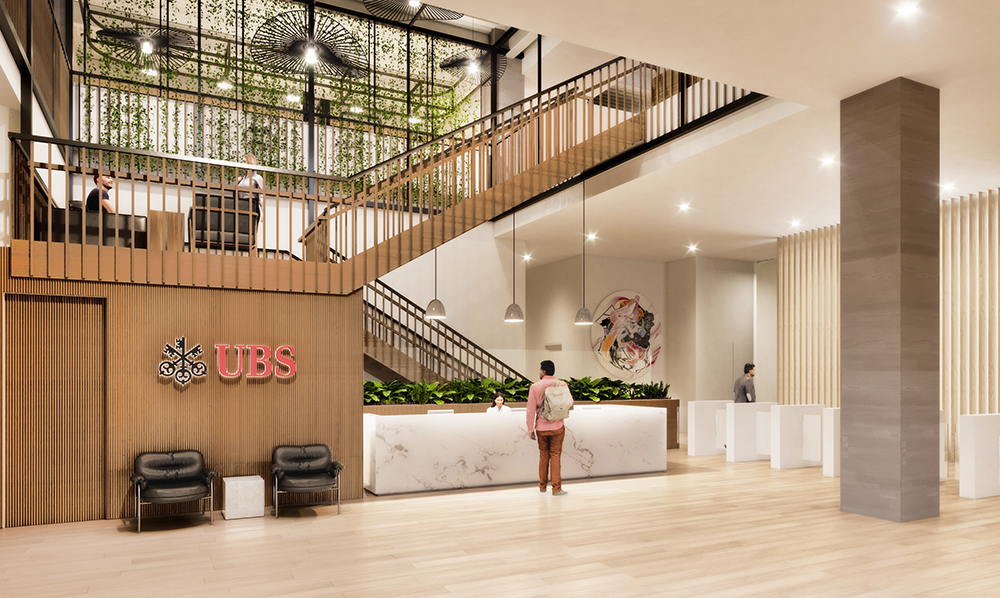 On July 30th, WeWork announced its large-scale renovation of UBS's Weehawken, New Jersey Lincoln Harbor campus.
WeWork's renovation is largely focused on a 100,000 square-foot common space area. The company's team of designers and architects relied on qualitative and quantitative data, employee interviews and spatial analytics to create their proposal.
Similar to WeWork's shared office spaces, the design calls for the insertion of amenities, including a meditation room, a juice bar and clusters of greenery. Additionally, WeWork's design for UBS entails the creation of flexible multifunctional spaces, individual meeting rooms, a new cafeteria and lounge, and a 500-seat auditorium. 
In a statement to Bloomberg, WeWork's chief growth officer Dave Fano describes the project as stripping away corporate America's stereotypical "stones and dark wood" aesthetic in favor of "trailing curtains of plants and low-slung chairs" splayed out over airy common spaces. 
Unlike WeWork's ground-up office spaces and wholly-owned shared spaces, the Weehawken project is tied to the company's Powered by We service. Launched in 2017, Powered by We offers office space design and management expertise to large corporations such as UBS. Bloomberg reports that the relatively new service reduces the startup's financial liability stemming from expensive office leases. Powered by We currently counts 30 customers and 11 spaces.
The project's estimated date of completion is 2021.